Complete Clear Drinks Variety Pack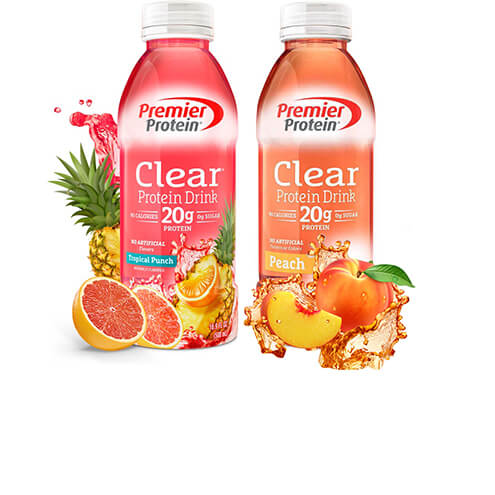 Nutrition Facts
Nutrition Facts
Please see individual products for nutrition information.
Are you sure you want to exit Auto Delivery?
Your Auto Delivery, , will not be saved.
Congratulations, you have started:
This item has been added to your cart as part of your new Auto Delivery.
You successfully added this item to your confirmed Auto Delivery order!
How fast will I receive my order?
Enjoy both of our delicious & refreshing, Premier Protein Clear Drinks in this convenient variety 48-Pack. They're packed with more calories from protein that your body needs than from sugar. Enjoy a refreshing boost of good energy any time of day! Includes two 12-Packs each of Tropical Punch and Peach Clear Protein Drinks.
Each Clear Protein Drink contains 20g of whey protein isolate, 90 calories, 0g sugar, 1g carbs.
NO ARTIFICIAL Flavors, NO SOY ingredients, GLUTEN FREE, SUGAR FREE, FAT FREE.
Packed with more calories from protein than from sugar—which is what your body needs.
Enjoy as a refreshing, hydrating beverage any time of day or mix with fruit and freeze for delicious, protein-packed popsicles
Enjoy a variety and save! See individual product pages for nutritional information.