Sign Up for Auto Delivery
Never Run Out of Your Favorites Again – SAVE Time & SAVE 10%!
Sign up for our Auto Delivery program, and you'll get your favorite products delivered right to your door on a schedule you choose. It's as easy as 1-2-3: Just create an Auto Delivery, decide on the shipping schedule, and add your favorite items. Your first order will arrive in a few days!
SAVE 10% on all Auto Delivery items and avoid the hassle of remembering to order.
Why Should I Join?
You can join our Auto Delivery program and get your favorite products easily and at a discount to you! For as long as you maintain an active Auto Delivery order, you will receive all of the following benefits:
A fast and hassle-free way to get your favorite products - just order once and you're set!
A 10% discount on every order: Members automatically get 10% off the regular order price on every Auto Delivery shipment.
No Risk/No Fees – Easily Change your Scheduled Delivery! Need to make a change to your Auto Delivery? We've made it easy for you! Easily add items, change your schedule, change addresses, skip shipments, or cancel anytime, all from your Auto Delivery management page.
How to Join
Sign up is easy – simply add an Auto Delivery item to your cart on any qualifying product page and then complete your Auto Delivery order online, or call us at 866-972-6879 (8-5 PT), Monday through Friday. You will be billed for and will receive your first shipment promptly. When the Auto Delivery button on a product page is clicked, you'll be starting your new Auto Delivery: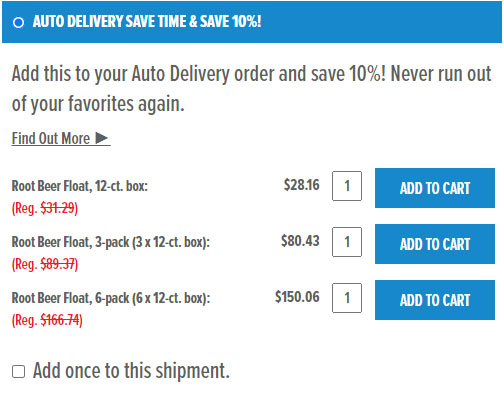 You can change your shipment frequency, next order date, payment method, shipping method, shipping address, billing address, order quantity, size, flavor, etc. You can also delay or cancel your next shipment at any time up to 48 hours before your next shipment is sent, as well as cancel your Auto Delivery program.
Shipping Details
Auto Delivery orders enjoy the same FREE Shipping on Orders Over $59 just like all of our orders (shipping policies).
Auto Delivery/Subscription Policies, Management, and Cancellation
When you set up an auto delivery/subscription, you're agreeing to recurring purchases at the frequency you set. The cost of your auto delivery/subscription might change based on fluctuations in product or delivery pricing.
Your payment details will be stored securely and you'll be charged for each of these deliveries unless you choose to pay in advance.
Your auto delivery/subscription will auto-renew until you choose to cancel the subscription. You can cancel your auto delivery/subscription by visiting the "Your Account" page, clicking "Manage Auto Delivery," choosing the subscription you'd like to cancel, and clicking the "Delete Order" button.
You can also cancel by calling 866-972-6879 (8-5 PT), Monday through Friday. You can cancel up to 48 hours before your next shipment.
See our returns policy for more details on returns and refunds.
Other Promotions
Other promotions are not valid with the Auto Delivery program as it already includes a special discounted price.
Create a New Auto Delivery
Congratulations, you have started:
You successfully added this item to your confirmed Auto Delivery order!