Chocolate Milkshake 100% Whey Powder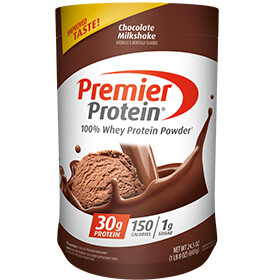 This item is available for Auto Delivery!
2-Pack (2 x 24.5 oz. canister):
$41.03 per canister
- SAVE $2.53!
4-Pack (4 x 24.5 oz. canister):
$37.64 per canister
- SAVE $18.60!
How
fast
will I receive my order?
Each serving contains 30g Protein* with all the essential amino acids, 150 Calories, and 1g Sugar. *100% of protein from whey.
No Soy ingredients, GLUTEN FREE
Try it mixed with water or milk, blended into your favorite smoothie recipe, or baked into protein packed recipes.
Available in three delicious flavors: Café Latte, Chocolate Milkshake, and Vanilla Milkshake.
Each tub contains 17 servings.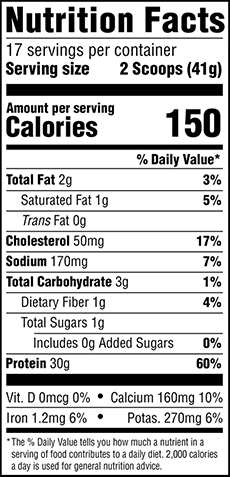 Ingredients
Whey Protein Concentrate, Natural Flavors, Inulin, Cane Sugar, Xantham Gum, Sunflower Lecithin, Salt, Monk Fruit Extract, Rebaudioside A (Stevia Leaf Extract).
CONTAINS: MILK