30g

Proteins, 8 Flavor Variety Pack, 11.5 fl.

oz.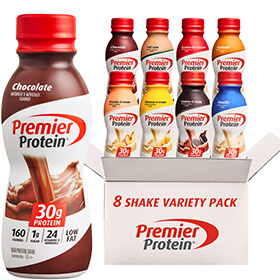 This item is available for Auto Delivery!
8-ct. box (8 x 11.5 fl. oz. bottle):
3-pack (3 x 8-ct. box):
$26.49 per box
- SAVE $4.50!
6-pack (6 x 8-ct. box):
$24.49 per box
- SAVE $21.00!
How
fast
will I receive my order?
Searching for your new favorite flavor? Our new 8 Shake Variety Pack contains a decadent lineup of some of our fans' favorite 30g Protein Shakes—Chocolate, Vanilla, Café Latte, Strawberries & Cream, Caramel, Cookies & Cream, Bananas & Cream and Peaches & Cream. Enjoy them all or discover your next go-to!
Ingredients
Please see individual products for ingredients.