Clear Drink Variety Pack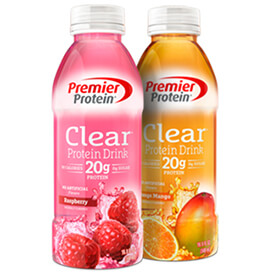 How fast will I receive my order?
Enjoy both of our Clear Protein Drink flavors in this convenient, money-saving pack. Each pack contains six of each flavors: Orange Mango and Raspberry.
Each Clear Protein Drink contains 20g of whey protein isolate, 90 calories, 0g sugar, 1g carbs.
NO ARTIFICIAL Flavors, NO SOY ingredients, GLUTEN FREE, SUGAR FREE, FAT FREE
Enjoy as a refreshing, hydrating beverage any time of day or mix with fruit and freeze for delicious, protein-packed popsicles.
Packed with more calories from protein that your body needs than from sugar.