Shake Variety Pack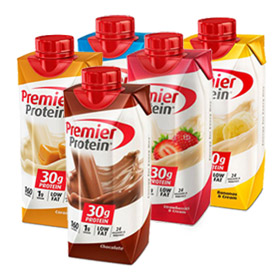 How fast will I receive my order?
Now you don't have to choose.
Enjoy all five of our best selling Premier Protein 11 fl. oz. shakes with this convenient Variety 15-Pack. Includes 3 bottles of each flavor: Chocolate, Vanilla, Strawberries & Cream, Bananas & Cream, and Caramel.
Each shake contains 30g of protein with all the essential amino acids, 160 calories, 1g sugar, low fat, 24 vitamins and minerals, 5g carbs

Recipient of the American Master of Taste Gold Medal for SUPERIOR TASTING ready-to-drink protein beverages in a national taste test by Chefs In America in 2015, 2016 and 2017
Avalable in five deliciously smooth and creamy flavors: Chocolate, Vanilla, Strawberries & Cream, Caramel, and Bananas & Cream. Our shakes are incredibly versatile. Shake well, serve cold, and enjoy our shakes as a delicious meal replacement, a satisfying snack, or workout fuel. Try them on their own, in hot or cold cereal, mixed into your favorite smoothie, as creamer in your coffee or in other protein-packed recipes.
NO ARTIFIClAL Colors, NO SOY ingredients, GLUTEN FREE, KOSHER