30g

Proteins, 8 Flavor Variety Pack, 11.5 fl.

oz.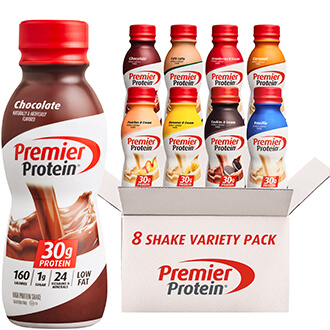 Are you sure you want to exit Auto Delivery?
Your Auto Delivery, , will not be saved.
Congratulations, you have started:
This item has been added to your cart as part of your new Auto Delivery.
You successfully added this item to your confirmed Auto Delivery order!
How
fast
will I receive my order?
Now Available for Pre-Order!
*NOTE: All orders containing 8 Flavor Variety Pack will be held until they become available late April. If you need to receive items other than the 8 Flavor Variety Pack before late April, please place a SEPARATE order.
Searching for your new favorite flavor? Our new 8 Shake Variety Pack contains a decadent lineup of some of our fans' favorite 30g Protein Shakes—Chocolate, Vanilla, Café Latte, Strawberries & Cream, Caramel, Cookies & Cream, Bananas & Cream and Peaches & Cream. Enjoy them all or discover your next go-to!